Use Mapheim to transform the way your next job fair is organized, experienced, and remembered by visitors through the power of interactive maps!
For the Attendee:
Pre-Event Buzz
Mapheim allows event organizers to showcase the event to the public before it takes place. By providing a sneak peek into what attendees can expect, Mapheim maps can excite and intrigue guests. Potential visitors can explore the layout, understand the participating companies, and plan their visit well in advance. This anticipation can increase the number of visitors, making your job fair an event not to be missed!
Comprehensive Company Presentation
With Mapheim, every participating company can have its dedicated space to present itself effectively. Companies can provide detailed information, including their mission, values, products/services, and even videos showcasing their workplace culture. This virtual company booth not only streamlines information sharing but also provides attendees with a deeper understanding of each company's offerings, helping them make informed decisions about where to invest their time during the event. Our interactive markers allow visitors to access any information needed; you can click on the map below to try it out yourself!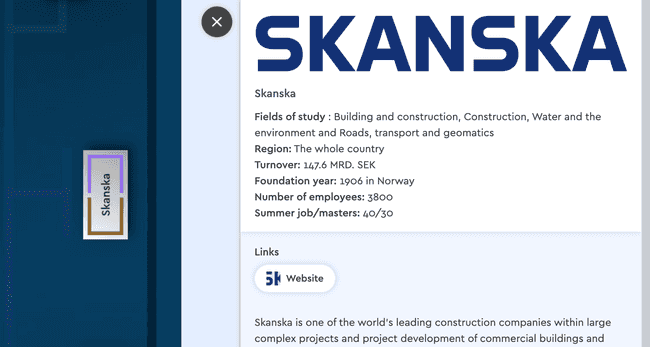 Navigation
Hosting job fairs on university campuses can be difficult for attendees to navigate, who are unfamiliar with the layout. Mapheim provides navigation tools. Attendees can easily locate the event venue, parking areas, registration desks, and individual company booths. This feature is useful for university campuses with multiple buildings so that attendees can effortlessly find their way around.
Custom Filters and Categories
Mapheims filtering and categorization features provide a tailored experience for attendees. A university hosting an event can use filters to showcase which faculties or departments specific companies are targeting. This helps students from various fields identify the companies that align with their career goals, resulting in more meaningful interactions during the fair. The filtering mechanism transforms the job fair into a personalized experience for each attendee.
For The Organiser:
Sponsorships
Mapheim allows job fair organizers to align various sponsorship tiers. Different pricing levels for booth spaces can be visually represented on the map, allowing companies to understand the significance of each location. This transparency benefits both sponsors and attendees, making it clear how companies have invested in the event and aiding attendees in prioritizing their interactions.
Gather data and insights on attendees:
Mapheim allows tracking of the companies attendees interact with the most, and organizers gain insights into participants' preferences and interests. This knowledge becomes a valuable tool for future events to better suit attendees' needs. Analyzing engagement trends and booth traffic enables event organizers to optimize layouts, fine-tune placements, and identify sectors that get the most attention.
Sustainability
In a world increasingly conscious of environmental impact, this technology offers a sustainable alternative to traditional paper-based event materials. By providing all essential information online, from company details to event layout, the need for printed leaflets is eliminated. This approach reduces paper waste, contributing to a greener future. Attendees can access information digitally on their smartphones or other devices, ensuring that every piece of information is readily available and easily searchable. With this eco-friendly initiative, job fairs become not just spaces for career opportunities but also platforms for responsible event practices that conserve resources.
Share map with your audience
To make the most of this interactive map software, consider sharing it in the following ways:
Provide a standalone version of the map that attendees can access on their smartphones for easy access and navigation, no download is required!
Embed the interactive map on your event's official website to reach a broader online audience.
Display QR codes at the entrance and even at individual company booths for quick access, ensuring attendees are never more than a scan away from this invaluable tool.
Give your attendees a smooth and immersive experience at their next job fair with Mapheims interactive maps; start for free and no registration is required!